Fishing is a fun hobby for several people, and there are some who take it as an adventure. Ice fishing takes this adventure to another level. You practice it when it is winter, and the water bodies get a thick layer of ice on their surface. The techniques used for fishing might be a bit different for catching fish out on ice. Your experience may not turn out to be a success as it is quite a dangerous job. Doing it successfully and safely needs you to have some skills.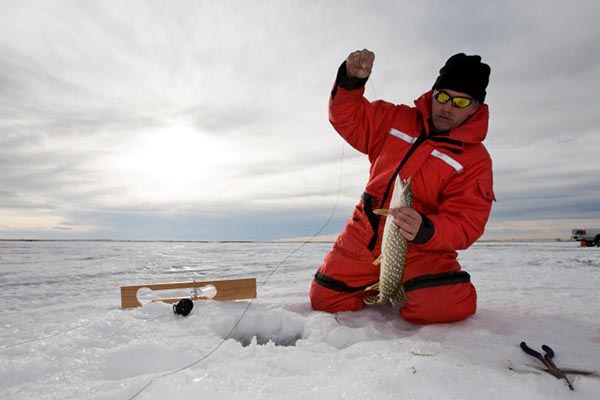 Following strategies and tips would aid you in this wonderful adventure:
You do not have to stick at one place for long. When you do it on a boat, you would definitely not remain at one spot. You would have to keep moving until you get the shot. The same you have to do on the ice.you have not gotten any? Pick up and try somewhere else.
It gets even more complicated when you have to make holes to cast the bait. You would have to have all required equipment on hand to avoid any mishap. Portable huts, warm flotation suits, lightweight ice augers, fish finders, hand-held GPS units, ATVs, and snowmobiles are some necessary tools, and you are going to need all of them.
Additionally, a chainsaw would help you dig holes in the ice. Cutting ice is much easier with a chainsaw. You might already have it in your garage. However, if it is not so, get yourself a good chainsaw. That does not only help you cut the wood and other stuff at home, but also make you able to carry it along when going for ice fishing. How this tool is going to perform depends on its features. What type you need depends on the tasks you would like to perform. Always research before you make a purchase decision.
Doing some research before hitting the fishing spot would be handy. You should have the knowledge about the depth you want to cover and the type of species you are going to target. Other than this, you would have to be prepared for the situation where you need to change the presentation. Those who are expert in it prefer to carry a dozen of different rods of various lengths and actions. That would be great if you go prepared to that level.
Jigging with great vigor can prove to be a terrible mistake. Moving too fast can make fish not expend much of its energy and let go. Twitch your lure by just moving your wrist or by moving the rod tip slowly up and down. Alternatively, swim the bait from one side of the hole to other. Lift the rod slowly and gently to see if you got anything. If no, give another try by holding an inch off the bottom.
Be Able To Feel The Weight:
You should always know the weight of your lure so that you can feel the extra weight. That extra weight would be the fish at your bait. There is a possibility you cannot even feel the weight. It is may be due to the heavy line you are using, or it is too breezy. Get a standard jigging for fish
Choose the time for fishing when most of the fish species are at the peak of their activities. That is usually early in the morning or late in the afternoon. Early morning fishing could be more productive as you can spend rest of the day doing other adventures with the family.