It is very important to keep your knives sharp when you're out fishing or hunting. That is because a blunt knife can turn into a nightmare to use, especially where you have to exert more force to cut something that would have taken very little effort. In this article, we are going to look at the importance of keeping knives sharp, and then also go ahead and review some of the best pocket knife sharpener brands that you can find in the market right now.
Safety
This is the most important reason why one should always keep their fishing and hunting knives sharp. Blunt knives could lead to injuries or accidents when more force is applied, or during the sawing motion.
Performance
Sharp knives are efficient because they save time. Dull knives are ineffective and can be downright frustrating. You spent money buying these expensive tools, and it is only fair for you to keep them well maintained so as to retain their value. Dull knives could mean that you'll be buying more in the very near future when you could have avoided it.
Sharpening your knife at home on a hunt or out on a fishing trip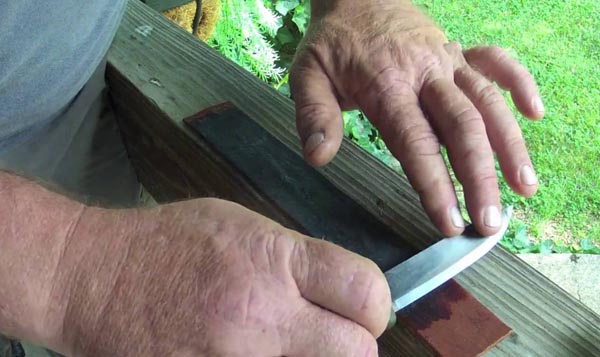 Angle of the Bevel
This is the first thing that you should consider when sharpening your knife, since it should match the angle of the bevel with the manufacturer's recommendations. A simple way to accomplish this is to take a magic marker and color the edge of the knife. Then stroke your blade across a diamond sharpener. Look at the edge – if it is too high and completely takes off the marker and more, or if it is too low and doesn't eliminate the marker, you have the wrong angle. You will need to keep adjusting until you have matched the angle. Marking the bevel edge also serves two additional purposes. It lets you know when you have effectively sharpened the knife and can help you avoid over sharpening or wasting blade life. Make sure that both edges of the knife are sharpened equally, focusing on one side at a time. Water is excellent for lubricating the knife during the process.
It is easier to keep a knife sharp than it is to rescue a dull knife, although the dull knives can still be salvaged by using multiple grits. There are three types of knife sharpening grits, coarse, fine and extra fine, with each providing a different level of sharpening. The smoother the edge of a knife is, the longer it will last and the easier it can cut. When sharpening dull knives, start with a coarse grit and then move on to a fine grit. If a knife just needs a bit of sharpening, the finer grits will be more effective.
Lighten up on each stroke for a more refined edge and be careful not to over-sharpen your knives. Removing extra materials from your knife will affect the longevity of your blade. This technique can also be applied to fishing hooks, keeping them sharp and effective. The whole process takes patience.
We are now going to review some of the best pocket knife sharpener brands that you can consider buying for your knives.
Smith's PP1 Pocket Pal Multifunction Sharpener
Smith's pocket Pal multi-functional knife sharpener features pre-set crossed carbides and ceramic stones, which provide the perfect edge every time. Carbides provide quick edge setting, and the specially shaped ceramic stones are designed to give you a razor-sharp edge on either standard or serrated edges. A fold out, tapered round, Diamond-coated rod is designed for sharpening serrations and small Gut hooks. The unit is compact, lightweight, durable, and comes with a lanyard hole.
Features
Tapered diamond rod for sharpening serrations and gut hooks
Carbide blades quickly set the edge
Ceramic finishing sot
Preset sharpening angles provide guaranteed results
Reversible and replaceable carbide blades and ceramic stones; Lanyard hole
Lansky Blade Medic PS-MED01
The blade medic knife sharpener is the first responder for field repairs on all types of knife blades. It's like having an entire sharpening kit right in your pocket-able to tackle regular or serrated blades, gut hooks, hunting, fishing, just about any knife.
Features
Diamond tapered rod – for fast reconditioning and maintenance
Tungsten carbide-three or four strokes will restore your blade
Ceramic sharpening rods – polish to a finished edge in three or four strokes
Serrated knife sharpener – designed to get inside even the smallest serrations
Smith's Pocket Pal X2 Sharpener & Outdoors Tool
Introducing the next generation Pocket Pal, the Pocket Pal X2 Sharpener and Outdoors Tool. Like the current Pocket Pal, the new X2 is lightweight, compact, and durable, but this new version comes with several, really cool features. It features the same coarse and fine pull-through sharpening slots and fold out, tapered diamond rod as the current Pocket Pal but adds a fire starter, compass, LED light, and signal whistle to its compact frame. It's the perfect tool for backpackers, hikers, campers, and outdoor sports enthusiasts.
Features
Firestarter with twice the spark
Compass; Signal Whistle; LED light
Tapered diamond rod for sharpening serrations and gut hooks
Carbide blades quickly set the edge; Ceramic finishing slot
Preset sharpening angles provide guaranteed results; Premium abrasive components for sharper cutting edge
Fallkniven Diamond/Ceramic Whetstone Sharpening Stone
Fallkniven DC4 Combination Diamond/Ceramic Whetstone, 4 in. Leather Pouch 1.25 in. x 3.94 in. Whetstone, fine diamond on one side, fine ceramic on the other. Includes leather case. Fallkniven DC4 Combination Diamond/Ceramic Whetstone, 4 in. Leather Pouch. Made in Sweden
Features
DC4
Fallkniven Diamond/Ceramic Whetstone, 32 x 100mm DC4
Leather Case included
Fallkniven
Grit: Fine
Victorinox Pocket Knife Sharpener
Over the years, both customer needs and technology have changed. The Swiss Army Knife has evolved by responding to these needs, while remaining an essential tool our clients can rely on. That's our story. But it's not what turned the Victorinox Knife into an icon. It's about the stories their customers experienced in which their products played a vital role: stories about memorable moments of adventure and expeditions on earth, in the sky, and in space. Dramatic stories in which their products contributed to solutions and saved lives.
Even stories of prominent encounters where the knives opened doors, helping to create ties between politicians, opinion leaders and nations. In all of these stories it becomes clear that thanks to the talent of their employees they have been able to develop products that excel in their functionality, quality and design – making them true companions for life. They invite you to discover the world of Victorinox and are proud to be a companion for your life.
Features
Compact and sturdy
Made in Switzerland
DMT Diamond Mini-Sharp Sharpener
Uniformity: DMT uses micronized monocrystalline diamonds, precisely sized for a more uniform diamond surface. No other diamond sharpeners offers micronized monocrystalline diamond and most offer the lesser grade poly-crystalline diamond. Mono-crystalline is like an ice cube made up of one particle holding its form while poly-crystalline is like a snow-cone made up of many small particles that get sheared off during use.
Coverage: DMT's process assures the most diamonds per square inch in the industry providing a more durable sharpening surface. The bench stones are engineered flat, assuring even contact with the knife or tool. Interrupted or polka dot surface for which DMT is famous has slightly recessed holes that will collect metal fines (swarf) removed during sharpening to prevent loading. Fast sharpening action; not recommended for pointed or very small tools.
Continuous surface presents a more conventional looking sharpening surface. Fast sharpening action; able to use on small surface edges. HardCoat, DMT's newest proprietary surface, is able to withstand the rigors of ceramic sharpening, providing an even longer service life to the sharpener.
Features
Superior Diamond Sharpening Stones
Legendary quality
Made in the USA
Ultra portable, key chain sharpener
Fine diamond for a razor sharp edge.
Sharpens knives faster than conventional stones with DMT's monocrystalline diamond surface
No oil is needed-sharpen dry or with water
Durable construction will provide years of consistent performance and reliable service
Lansky Quick Fix Pocket Sharpener
The versatile, compact Quick Fix sharpener, from cutlery sharpening company Lansky, combines two sharpening technologies — tungsten carbide to hone the blade to a fine point, and ceramic to smooth the edge for a long-lasting keen. A molded rubber grip ensures solid, slip-free use, and it takes only three or four strokes to get your blade razor-sharp. Best of all, you can take it with you anywhere, as it stows easily in your pocket, tackle box, daypack, briefcase, or purse.
Warranty
This Lansky product includes a limited one-year manufacturer's warranty against defects in materials and workmanship.
Features
Versatile, compact sharpener from cutlery sharpening company Lansky combines two sharpening technologies
Tungsten carbide to hone blade to fine point, and ceramic to smooth edge for long-lasting keen
Molded rubber grip ensures solid, slip-free use, and it takes only three or four strokes to get your blade razor-sharp
Take it with you anywhere, as it stows easily in your pocket, tackle box, daypack, briefcase, or purse
Includes limited one-year manufacturer's warranty
Conclusion
Having a sharp knife is essential for your safety and also for efficiency. You wouldn't want to invest in a knife and then let it go to waste because you did not bother to maintain it. One of the sharpeners above can work perfectly for your knife.