If you value the quality of your cigars but have many fishing trips, then you might want to consider getting yourself a cigar humidor. Going on fishing trips will expose your cigars to high moisture levels if they are not properly stored and that will affect their quality. Good thing is that not only will the cigar humidor dehumidify but also humidifies the cigar in the case of low moisture levels because if the moisture level is very low in the air it will draw out moisture from the cigar making it too try. In order to find the best cigar humidor for travel, it is important to know what to look out for when shopping for one. Some of the factors to consider when looking for one include: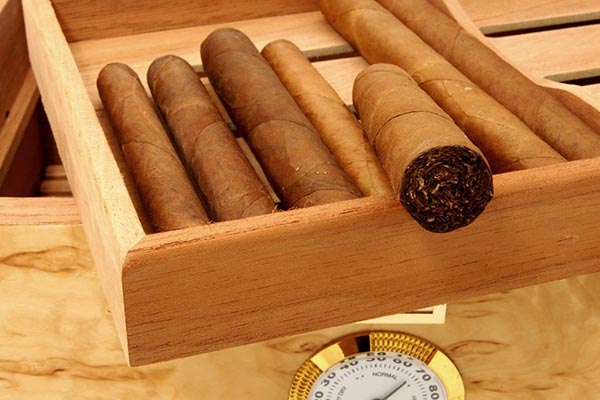 Size of the humidor
Since the humidor s for travel, it is important that you consider its storage space as you don't want something that is too big neither too small. That will basically depend on your individual need.  Most people would prefer a compact sized humidor since they are using it for travel.
Kind of seal used
A good cigar humidor should have an airtight seal so that it maintains a good moisture level of the cigars. It is important that the air is not too dry neither is it too humid. An airtight sea will help in preserving the freshness of the cigar. If the seal is not so tight, it may have a moisture leak which may make the cigar either too humid or too dry and that beats the purpose of the humidor. An airtight seal is therefore an important consideration to make when looking for a cigar humidor for proper functionality.
Cedar interior
The interior of the humidor will affect its functionality. A good interior makes all the difference and most of the times a good humidor will have an interior made of Spanish cedar wood.  That wood is commonly used as it is good when it comes to absorbing and retaining moisture.  It is also good at keeping insects and pests at bay which may affect the quality of the cigar.
Hygrometers
A hygrometer is what is used to measure the humidity levels of the humidor. Some hygrometers come when they are already pre-calibrated while for others you will have to do manual calibration. A hygrometer will help you in doing monitoring to make sure that the humidor is at a desired moisture level and they also give you the freedom of setting up your humidor to be at your desired level.
Humidifiers
Most humidors will come equipped with a humidifier since the main function is making sure that the humidor has the desired humidity level. A humidifier will add moisture to the humidor when the air is very dry to maintain the quality of the cigar. You should however keep in mind that not all humidors come with a humidifier and in some cases you will have to get one yourself.