Having the right hunting boots is very important as it has a big influence on your hunting experience. Most people when shopping for hunting boots give a lot of consideration the brand. While the brand is very important, there are other factors that come into play that are also important. As much as you want to find the right boot for the right function, you also have to look at a set of factors that may include: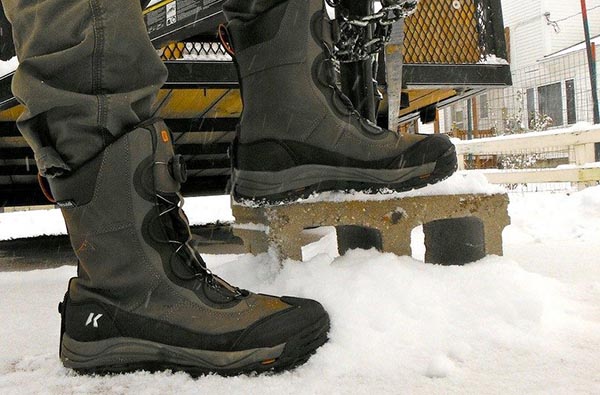 Fit
The fit of the boot has a big influence on how comfortable they will be. There is nothing as bad as footwear with the wrong fit. It can either be uncomfortable to walk in or if they are small they can lead to blisters on the foot. In checking the fit, you should note that they shape of the boot has an influence on the fit and hence knowing the size is not enough. It is good to also try on the boot to ensure that it fits well.
Ventilation
Different boots will offer different levels of ventilation depending on what is best suitable for the boot. Ventilation is what determines how breathable the boot is. For some environments, the wrong ventilation will lead to discomfort and sweating. That explains why different boots are well suited for different environments.
Insulation
This is the level of warmth offered by the boot. Again it depends on the environment you will be doing the hunting or the fishing. Some environments do not require extra insulation and more insulation will only lead to sweating and excess heat which will lead to discomfort.
Durability
The durability of a hunting boot depends on the kind of material used on the boot. Some materials are well known for durability and hence are more durable than others. Most hunting boots are made of rubber and leather due to their durability.
Waterproof ability
We have to agree that when hunting or fishing, there is some moisture involved and hence it is important to consider the waterproof ability of the boot. This will depend on the kind of material used on the boot. Some materials have higher waterproof ability than others and hence it is important to keep that in mind.
Purpose of the boot
As much as the main aim of the boot is hunting, the terrain in which you are doing the hunting will affect your choice of the right kind of boot for you. Some boots are more suitable for some environments than others. There are however some boots that are multipurpose and hence if you are not sure of the environment you will use the boot you can go for a multipurpose boot that will get you covered in different environments.
Good thing with hunting boots is that there are many sites that not only sell the hunting boots but will also give you a guide to hunting boots helping you make an informed decision.