Maybe we don't all immediately associate camping with fishing, but most of us see the correlation quite readily. Taking that weekend excursion camping can, and should, entail some great fishing adventures too. These are the best places to go camping and fishing at the same time.
Don't forget your gear. You will certainly need a tent and your rod and reels. Maybe you will consider bringing a one man survival tent, but understand that these are different from ordinary tents. They are specifically designed to work in cases of emergency. So, they'd be great if you were simply going to wander into the woods to find that secret fishing spot and then somehow got lost. But, if you know where you're headed, and how to get out, a regular tent will do just fine. Now, it's time to determine the best places to go.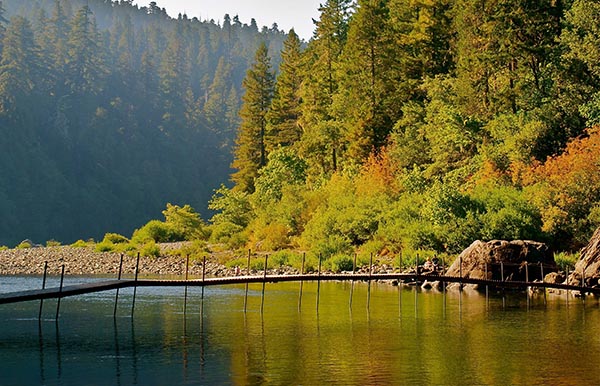 5 Places for a Great Camping and Fishing Experience in California
Obviously, your current locale will play into which sites are best suited for you. However, there are many people who choose to travel a good ways to arrive at their favorite destinations for these kinds of adventures. So, we'd like to give you our suggestions for 5 places for a great camping and fishing experience in California:
Jedediah Smith Redwoods– Located in the Northermost redwood park, you will find crystal clear waters that offer great fishing after the winter storms have subsided. And, it's probably the most fishable place in the state all year round. However, if you are a novice angler you might want something a little less challenging. But, with more than 100 campsites, it's certainly a great place to set up your tent.
Lake Margaret– This site is located in the Shasta-Trinity National Forest. There's a catch to entry though, and that is you will have to be a member of Wilderness Unlimited to use the grounds. But, the price is well worth it. So, if you're looking for three different kinds of trout, and like using a variety of spoons, this is the place for you. Even fly fishermen will enjoy this locale. Of course, there are only 12 camping sites so make sure to book far in advance. Read this.
McArthur Burney Falls– Don't miss the waterfall here. Plus, you will love the smallmouth bass fishing and the seriously cool trout streams. We suggest that you read up on the special regulations though. And if you're a beginner, start at Burney Creek, which is located above the falls. Thankfully, this site offers you 128 different spots for camping so you should be fine reserving one.
Clear Lake– If you are looking to catch a bass for the records, this is the place. But don't be surprised when you realize that Crystal Lake is anything but crystal, unless that conjures up images of emeralds. It's pea soup green instead. Largemouth bass lay waiting for your expertise in this lake. Plus, there are nearly 150 sites just begging for your tent. Learn more.
East Bay Piers- You will want to stay at Mount Diablo State Park, but since there are less than 60 spots, this is another place you will want to reserve in advance. Then you can enjoy the striped bass. We suggest utilizing pieces of anchovy or soaking live bullhead on some light tackle to reel these beauties in.
Of course, we understand that not everyone can get to California, so you can find some other suggestions here.